Download the reference book and see 8 exemplary cases of architects using skylights to build better, brighter schools.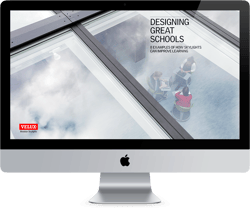 Sufficient daylight is critical to health and learning alike.
With 64 million European children spending more time at school than anywhere else other than their own home, designing schools with daylight in mind is key.
More and more architects are using skylights and windows in school design to support great learning outcomes.
In this collection of case studies, you will see 8 examples of how you can design with daylight to inspire learning:
Collège Tomi Ungerer, Dettwiller, France
Trumpington Community College, Cambridge, United Kingdom
St. Francis Primary School, Isle of Wight, United Kingdom
Brede School de Egelantier, De Zilk, Netherlands
Rivers International School, Arnhem, Netherlands
Roskilde Katedralskole, Roskilde, Denmark
Drømmebakken Kindergarten, Aarup, Denmark
Hessenwaldschule, Weiterstadt, Germany